&nbsp
&nbsp
Executive search of top managers and specialists for your company.


We monitor the market continually and have current information about where to find the most suitable candidates for our clients. We know how to address candidates in a discreet way, assess their suitability and present them to our clients.


Our process is always completely transparent and our customer is continuously informed about its progress.


Our service does not finish by finding the candidate − we seek re−assurance that the relationship between our client and the new colleague is satisfactory and help to establish a smooth co−operation where needed.


An ethical approach, discreetness, professionalism and a transparent process.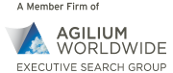 We lead you to a clearer picture